Drug overdose deaths continue to increase in the United States
​Sources: SAMSHA 2017 National Survey on Drug Use, CDC Drug Overdose Data, and Health and the World Drug Report 2017
Opioids Represent 68% of All Overdose Deaths
Of the 70,200 reported overdose deaths – Opioids killed 47,736 people in 2017 – representing a 13% over the prior year. Fentanyl accounted for the highest at 28,400 (45% increase) with heroin at 15,400 and prescription opioids 14,400 – both relatively flat to 2016 rates. Cocaine and Methamphetamine in the 4th and 5th spot. While the cocaine use levels have remained similar since 2006, in 2017 there was a 34% increase in cocaine overdose deaths and a 33% increase in methamphetamine deaths. This rise is largely due to the practice of lacing these and other street drugs with illicit fentanyl.
Source: CDC www.cdc.gov/drugoverdose/data/cdcwonder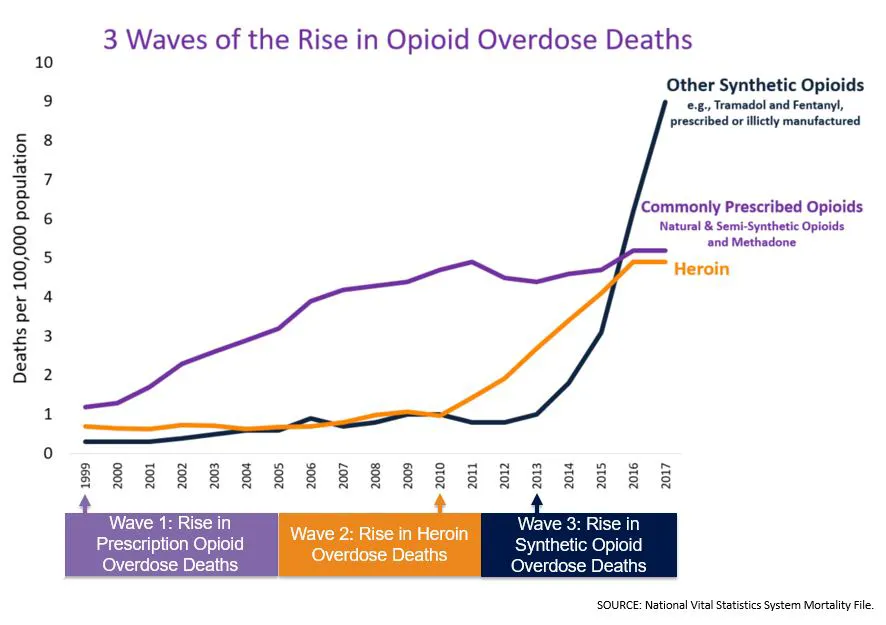 CDC 2000-2017 data illustrates two distinct trends driving America's opioid overdose epidemic: a 16-year increase in deaths from prescription opioid overdoses, and a recent surge in illicit opioid overdoses driven mainly by heroin and illegally-made fentanyl. Most of the increases in fentanyl deaths over the last three years do not involve prescription fentanyl but are related to illicitly-made fentanyl that is being mixed with or sold as heroin—with or without the users' knowledge and increasingly as counterfeit pills.
Source: CDC www.cdc.gov/drugoverdose/data
CDC 2017 state data shows the overdose age-adjusted rates for a view across America. The darker the red, the greater the overdose death rate. Overdose Lifeline's home state of Indiana is ranked 14th in the nation for overdose deaths (age adjusted rate 29.4, 1852 overdose deaths) — 2nd year on the list of states with statistically significant drug overdose deaths.
In 2017, the states with the highest rates of death due to drug overdose were:
U.S. State and County Data
View drug overdose/poisoning deaths at the national, state, and county levels, sourced from the Centers for Disease Control (CDC), National Center for Health Statistics (NCHS): Data Visualization Gallery. 
Symptoms of opioid overdose
Opioid overdose is life-threatening and requires immediate emergency attention. When a person is overdosing from an opioid, their central nervous system and respiration system is depressed and breathing slows or stops.  Recognizing the signs of opioid overdose is essential to saving lives.
Call 911 immediately if a person exhibits any of these symptoms:
Naloxone, an opiate antidote
Opioids include heroin and prescription pain pills like OxyContin, Percocet, Methadone, and Vicodin. When a person is overdosing from an opioid, their central nervous system is depressed and breathing slows or stops. Naloxone blocks the effects of opioids and reverses the effects of an overdose. It cannot be used to get a person high. If given to one who has not taken opioids, it will not have any affect them, since there is no opioids in their system to reverse.
How do you get naloxone?
How is it administered?
Visit our About Naloxone page for information on how to get naloxone, how naloxone reverses overdose, different types of naloxone, administration methods, and more.